We work for and with our clients.
We are a full service residential paving company.
Dedicated to operational excellence and an outstanding customer experience, we work collaboratively with you to achieve your goals.
The Total Paving and Brick Services advantage is that we are ready to serve you with every opportunity and this is what our customers can expect and deserve everytime.
SERVICES
Total Paving and Brick Services offers a full range of asphalt, concrete, brick/stone and maintenance services including estimates, demolition excavation, infrared patching drainage issues, material recommendations, design and complete solutions to problems of a homes exterior pavements and drainage conditions.
PROJECTS
With thousands of jobs successfully completed over years in business, we continue to stay committed to excellence, professionalism, and responsibility to all areas of our work.
OUR PROCESS IS SIMPLE
WE MAKE IT LOOK EASY!
 1. CALL US
Friendly staff is available to help setup a convenient time for you to meet personally with one of our estimators.
2. MEET US
Our estimator will arrive to your home to discuss and answer your questions concerning pavement plans.
3. GET YOUR QUOTE
Receive & Review your quote after your meeting with estimator. (Larger projects may require additional time).
4. SCHEDULE
Upon receiving your signed contract, deposit and property plat of survey, we are ready to begin the permitting process and proceed to scheduling your job once the permit is approved!
5. DEMOLITION DAY
Removal of existing pavements or green areas that will be replaced with new pavements and installation of new stone base, left ready for inspections.
6. INSPECTION DAY
Normally the following day, required inspections will be coordinated by us with your local village or city and schedule based on availability.
7. PAVING DAY
Upon approved inspections, our crew will arrive promptly and setup for paving, laying brick, or pouring concrete and install your new pavement.
8. ENJOY!
Now you can enjoy your new outdoor space or upgraded driveway optimizing the use of your homes pavements. Remember to wait the recommended amount of time before parking your car to prevent any damage to your new pavement.
OUR CLIENTS SAY
"From start to finish, a completely  professional  approach to our project. Every one we dealt with from estimating, to completion, were more than professional. With 42 years in the asphalt industry myself, I would highly recommend Total to anyone who is looking for quality work and quality people. Thank you Mario.

Bob and Kathy D"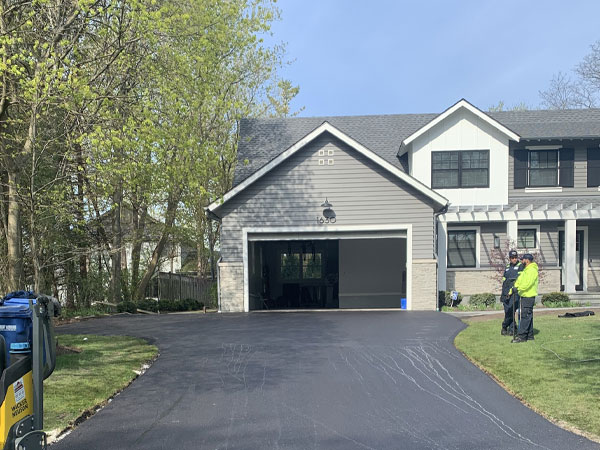 "Total Paving is highly recommended.  Professional, high quality, work by people that care about doing a great job.  They handled concrete, bluestone and driveway replacement over a heated driveway.  Outstanding work!!"
"Total Paving's initial 7-page proposal detailing how they would perform the work was impressive! We chose to spend $2,500 more in choosing them over the other proposal because of the thoroughness of their proposal. And they did everything they had in their proposal, no shortcuts. The people doing the excavating and other site work were very capable and cared about the quality of their work. The foreman for the retaining wall and brick pavers work is an artist and had 30+ years in the business. The paving was great! The hand-packed edges were amazingly consistent and the whole driveway was properly pitched to shed water away from the house. We have received numerous compliments from neighbors and others that walk by our house. We highly recommend Total Paving!"
"Everyone was professional and fantastic. Bid the job the way I wanted them to. Eric kept me informed and they did a great job. Highly recommend them to anyone in need of paving services."
"Total Paving did an outstanding job. All those that worked on our project were highly skilled. If you are replacing your driveway or having brick work done I highly recommend Total Paving."
"Helpful and friendly office staff. The estimator was knowledgeable and prompt. The installers completed the work efficiently. Follow-up emails were much appreciated. Also thank you for the quick response to questions after the work was finished. It was a pleasure working with all of you!!"
"Total Paving was on time, did a fantastic job and great clean up. I have used them several times and recommend them to other friends and neighbors."
"They did great work just as promised.  I watched them work and was impressed with their attention to detail and conscientious work ethic.  We had a blacktop driveway and stamped, concrete sidewalk done.  There were a couple of minor defects that appeared after installation and they were very good about coming back and correcting the problems no resistance and no questions asked–they just came and fixed it."
"Total Paving replaced my tired, old 80s-era driveway at my rental property three years ago, and it still looks brand new. I have the best-looking driveway in the whole neighborhood!"
"These guys are great!  Professional, on time and thorough. I have used them commercially and personally. They did a great job in both cases!  Highly recommended. Ask for Oscar, he is great to work with. Thanks"